Galvanized waterlines were popular in homes prior to 1950. If you have a home built in that era, chances are you may have galvanized waterlines.
They are basically steel pipes that have a zinc coating and threaded connections.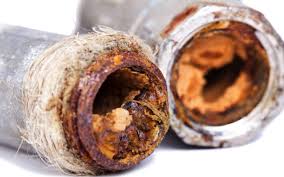 Over time the waterline will build up with debris and hardness from the water, to the point there is a severe drop in pressure and it will not provide adequate pressure for you plumbing fixtures.
If there needs to be a repair on the line, the fittings typically rust together and break apart at the joints, which can lead to an aggravating repair for your plumber.
If you are looking at purchasing a home with galvanized waterlines, take in mind when you apply for insurance your broker will tell you the galvanized waterlines need to be replaced. This can be a nasty surprise after making a big investment into a home.
Give us a call to get your galvanized water lines replaced!