Here is a step-by-step guide you as a homeowner can perform in your home to check to see if your plumbing is in safe working order.
The purpose of this article is to help you; the homeowner, prevent a major flood in your home! You can check all these things yourself using this guide of common plumbing areas of concern.
Sump Pumps
Most homes built within the last 30 years have a weeping tile system installed around the foundation of the home. This system will collect water from the foundation of the house in a sump pale in the basement. It will then take the water and pump it to a storm drain or to your lawn. Checking if your sump pump is working is a very simple task and could save you thousands of dollars in damage. We see them fail all the time and cause an enormous amount of damage. Here is a simple guide to checking your sump pump and making sure your basement is protected. You may want to check your insurance policy and see that backups from sump pumps are covered!
How to check if your sump pump is working:
If you have any suspicion that your sump pump is older that 10 years, we would recommend you change it. For the $400 approximate cost we can supply and install a very robust and reliable pump. There are cheaper pumps available on the market but this in NOT where we would recommend you try and save money.
Remove the lid of your sump pale, with a flash light first look at the power chords in the pail, are they strapped to the discharge pipe? If not they should be, for the simple reason you do not want your float to get tangled up and leave the pump running for extended periods of time. This is a simple fix and can save you from a flooded basement.
Lift your float, the pump should kick in immediately, and start pumping any water thats in the pail.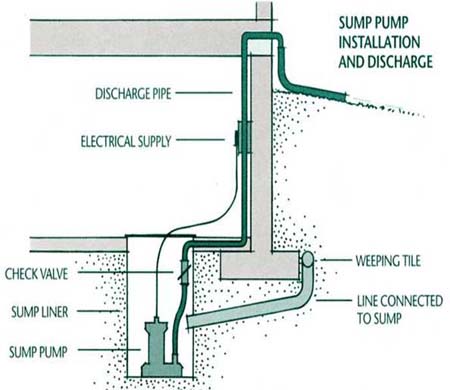 Crane toilets
If you have an older Crane toilet in your home, you may want to consider checking the serial number inside the tank because these toilets really crack us up.
There has been a class action lawsuit against Crane due to the amount of insurance claims these toilets have caused. They will typically split from the bolt holes on the bottom of the tank to where the handle hole is.
We have arrived to some properties and witnessed the aftermath of one of these tanks rupturing and it is not pretty. Yes your insurance may cover the damage but it would be months of ongoing work in your home, and probably a big inconvenience.
Lift your tank lid, and look for the serial number. If it begins with the letter "V" and your third and fourth digits are 80-91, then you should probably give us a call to come and install a new toilet(s) in your home. We can make something work for anyone's budget!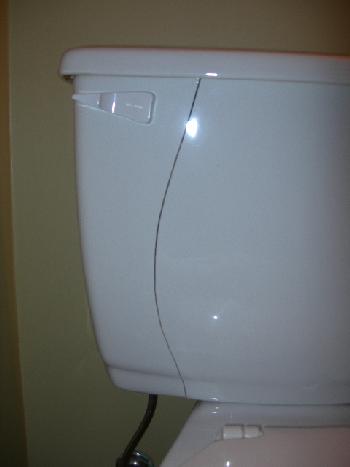 Rubber washing machine hoses
Replacing your rubber washing machine hoses with braided hoses is a great way to save yourself from a nasty surprise one day. They will all burst, it is just a matter of time.
Give us a call if you need assistance with this repair!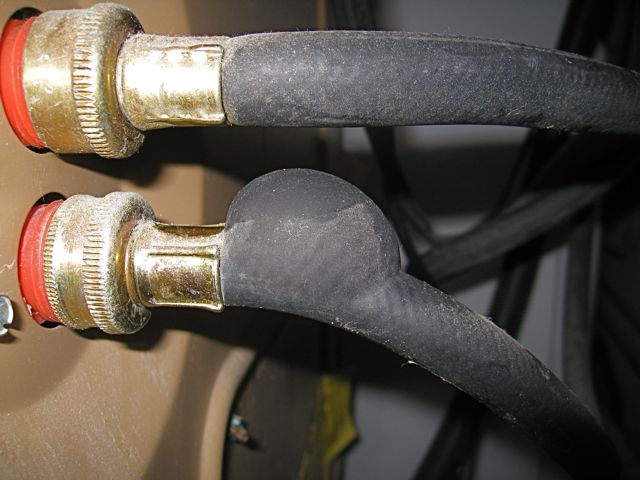 Floor Drains
We recommend that you do not cover your floor drain in your laundry/ mechanical room. We do see this occasionally and it is a simple fix to remove the area rug or floor mat that is covering the drain in your basement.
Poly-b (polybutylene) piping
If your home was built between the mid 1970's to the mid 90's, chances are you could have Poly-b plastic plumbing lines (see below for pictures).
We are frequently asked: What do I do if I have have poly b?
Well to be honest, if the piping has started to fail the only option is to remove all of it. Most of the pipe is usually hidden behind the drywall and ceilings, and above ductwork. This can make out for an involved renovation to your home with multiple trades : Plumber, Drywaller, Painter, ceiling texturing.
This can be overwhelming for most homeowners and can turn out to be costly. But in some instances there is no other choice. We work with contractors in these trades and can give you a package price if you are looking for a renovation of this nature. This will ease some of your burden in going through a renovation like this. The plumbing pipe replacement is usually the least costly ironically when it comes to this renovation.
Please don't hesitate to call if you find your elf needing advice in this situation.
Hose Bibbs
Frost free hose bibbs are very common service calls in residential homes. They can freeze and split, and make quite a mess in your basement.
This only usually happens if they are installed incorrectly or the garden hose is left hooked up. Always disconnect your hose in the winter!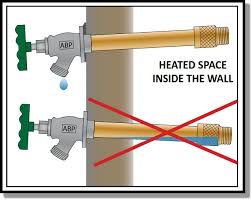 It is very simple for a homeowner to check if they are installed properly if you have an unfinished basement:
Locate the hose bibb on the exterior of your house.
Check to see if the body is sloping towards the exterior, if not then it is installed incorrectly.
If you are able to raise and support it properly we would recommend you do so, if not you know who to call!
Be sure you always remove your hose so the body of the hose bibb can drain before it gets cold out! This will definitely freeze and crack the valve body of your hose bibb!
Plastic hot water tank drains
Here is two examples of a guaranteed service call in your home.
These valves are notorious for leaking and can be easily replaced for the most part.  We can definitely come and replace these if you are not able to, or we can catch it on a mechanical inspection for you!
Shower drains
You may have a fiberglass shower in your home, usually located in the ensuite. This shower will have a 2″ shower drain installed on it.
These shower drains should be siliconed, but the newer neighborhoods of Edmonton had a significant amount of plumbers putty used instead of silicone.
Remove the shower drain cover, and look closely at the plastic drain assembly where it meets the fiberglass, there should be silicone squished out of the joint there. It may look shiny or dull with time, but you should not see any gaps between the plastic and fiberglass.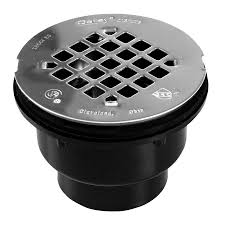 If you have plumbers putty installed you may see some brown residue around where the two materials meet. This is definitely going to leak and create a stain in the middle of your living room or kitchen on the ceiling.
The proper remedy for this would be to remove the shower drain and silicone.
We DO NOT recommend you try this, the service charge for us to come and repair is minor compared to making an error and flooding your ceiling space.